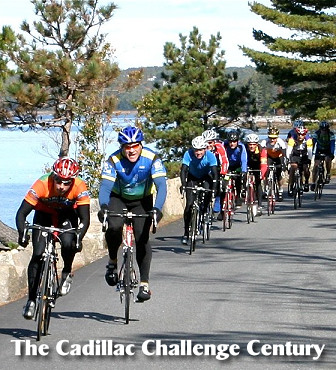 THE 29th ANNUAL CADILLAC CHALLENGE CENTURY RIDE WILL BE HELD ON SUNDAY OCTOBER 4 2020, RAIN OR SHINE: COVID-19 PERMITTING.
(Always the 1st Sunday in October)
---
The 29th Annual Cadillac Challenge scheduled for October 3 is still tentatively ON. Our volunteers have given us indication that they will volunteer if our distancing and group activity restrictions are lifted and we can host a safe event. The safety of our volunteers and riders has to be our utmost priority. Registration and rest stops are obviously the biggest risk areas.
Please continue to check our Facebook or here for updates. We will make and post our final decision on our before September 1.
Keep pedaling and stay safe
Ride Information
Turn by turn description of the 2018 rides and map
Date: On Sunday October 4, 2020 (rain or shine)
Registration: 7:00 AM
Rider Meeting: 8:00 AM
Ride Start: right after rider meeting
Where: Mount Desert Island High School
Planned Ride Length:100 or 68 miles ("metric century")
Climbing: 6,950 or 5,551 feet
Registration Fee: Free! (donations accepted to defray expenses and cyclists are subject to an Acadia National Park Entrance Fee) (details below)
Details about the Cadillac Challenge Century Ride:
The Cadillac Challenge is a superb day of bicycling on beautiful Mt. Desert Island. Riders will cycle through some of the most spectacular fall foliage scenery that Maine has to offer including mountains, the Atlantic Ocean, Somes Sound, lakes, forests, wetlands, harbor towns, abundant wildlife, and much more. Two ride options of 68 and 100 miles are available to suit varying degrees of fortitude and both include the spectacular roads and scenery of Acadia National Park.
In its twenty-eighth year, "The Cadillac Challenge Century" features 6,950' of climbing and travels just about every road on Mt. Desert Island. After a 87 mile warm-up, you'll begin the final 3.5 mile, 1,000' climb up Cadillac Mountain. The summit at 1,530' is the highest point on the eastern coast offering an eagle's eye view of the Atlantic Ocean, Frenchman's Bay, Mount Desert Island, and the mainland beyond. After all the day's efforts you'll enjoy the great downhill run to the finish with only one short uphill in the last eight miles. For those that prefer a shorter ride the metric (plus) century route features 5,551' of climbing over 68 miles and includes the Cadillac Mountain climb. You also won't have to strong arm friends and coworkers for ride pledges or pay an exorbitant entry fee just to go on a bike ride. The Cadillac Challenge is free of charge to all who wish to ride! (However, only if you wish, donations to help out with ride expenses will be cheerfully accepted.) There is an Acadia National Park (below)
Please note that Acadia National Park policy dictates that bicyclists pay an Entrance Fee to Acadia National Park for their use of the Park.
If you have a weekly, annual or senior or military pass, bring it with you, and you and 3 additional riders will be admitted if you are together.
If you buy a $30 vehicle pass or a $55 annual pass at the fee station, you and 3 other riders in a group will be admitted.
If you don't have a pass, the bicycle pass is fee is $15, and only you will be admitted. So, if you are in a group and don't have a pass, it makes sense to buy a vehicle pass. If you visit us more than once or twice a year, it makes sense to buy an annual pass for $55.
Ride Details
The route is marked in orange on the pavement, except that in ANP, there are wooden directional signs. (No painter signs in ANP.)
The Bar Harbor/Mount Desert Police will be at a few critical intersections, especially were riders will be making a left turn across traffic, in higher traffic areas. Don't forget to say Thanks.
There will be one cruise ship in Bar Harbor on October 7. The tour buses will be aware that our event will be in progress, and riders need to be aware of the buses. That is especially important on Cadillac Mountain. We need to be respectful of each other.
Specific ANP rules
On 1-way sections, no more than 2 abreast and keep to the right
On 2-way sections, only single file and keep to the right
No littering (anywhere for that matter)
Riders must pay a $15 fee at the entrance station if they do not already have a valid pass. Note-Riders with a pass may bring 3 addition rider with they if they are in a group. You may buy a $35 weekly vehicle pass at the entrance station and take 3 other rider in your group with you.
You will be in a National Park. Conduct yourself accordingly. Others will be enjoying the Park as well.
Be especially careful coming down Cadillac. Obey the 25 mph speed limit. No passing motor vehicles. STOP at the bottom.
Except for ANP, these are Maine roads – Some are terrible, cracks and pot holes
We accept voluntary donation to cover our costs. We don't make any money on this event. When we have excess donations, we make donations to organizations that help us put on this event. If there are funds left over after that, we donate them to the Bicycle Coalition of Maine to support their mission of making Maine a better place to bicycle and walk
Rest Stops
Tremont Community Center – Closes at noon (Century only)
Northeast Harbor Marina – Closes at 1:00p unless we know there is a group on route
Fabbri Picnic Area on the Park Loop Road – Opens at 10:30a. Closes at 3:30p
Cadillac Summit – Opens at 12:30p. Closes at 4:30p
Bathrooms available near all 4 rest stops
Sag drivers on course for emergencies, not for routine rides back to the MDI HS. Island Explorer buses travel around most of MDI. They will stop and give you a ride if you wave them down. Sag cell numbers on map. Tap your helmet if you need help. Wave, and we wave back
So while you won't find post-ride pasta feeds, registration bags of goodies, brass bands announcing your arrival at the finish, and other ride "extras", you will find all the ingredients necessary for a enjoyable, challenging century ride. We will be providing a carefully researched route, detailed maps, cue sheets, course markings, and sag wagons to patrol the course.
If take any photos of the 2019 ride, please send them to me or post them on our Facebook site: https://www.facebook.com/cadillacchallengecentury/
Please visit our Facebook page
If you have any questions or comments, shoot me an email at dsread47@gmail.com.
Dean S. Read
Ride Director
(207)281-2763 mobile
dsread47@gmail.com